On an unusually cool summer Saturday morning, several excited ladies gathered and boarded a mini bus, trusting themselves into the hands of our driver, David and the plans of a select few.
Not knowing any of the destinations, the Onkaparinga Harmony ladies, eagerly looked for tell-tale signs as the bus drove the streets of McLaren Vale, Tatachilla and onto the coast line at Aldinga.
With the ocean in sight, the promise of a cuppa, even those in the know had to do some quick thinking as the chosen kiosk cafe stop was not open. "Only when the sun shines!" declared the blackboard as the disclaimer to the displayed opening hours!

Always flexible and adaptable, the decision was to head south following the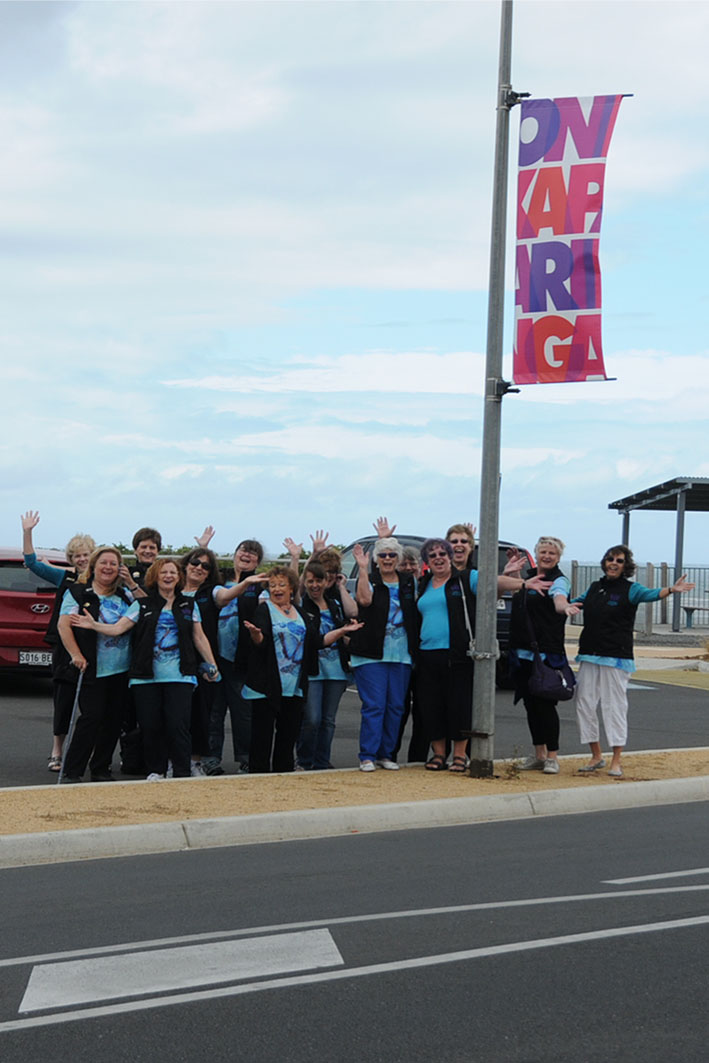 coastline in search of that promised beverage. Great joy followed when we found a welcoming cafe with chairs and tables to spare for the group of 18. Refreshed by our beverages (all the permutations of a coffee you can order plus an herbal tea) it was time to exercise our vocal chords. Fellow diners didn't object so in contrast to the windy raining weather, "One Fine Day" serenaded the patrons.
Applause & smiles, while one jumped up from his seat.
"Who are you?
How did you do that?
Can you sing another one?
Will you sing on my radio show tonight?"...



Squeals of glee as the chorus learnt of this pending opportunity, will it happen?
We would have to wait to see!


Where to next?
Nestled between the Hills and the ocean, a large statue of Buddha has been erected on the site of a Traditional Buddhist community. They have great plans to one day finish construction of a permanent temple.
As we left the sun finally broke through and the phone rang. A silent air of expectation was felt as we waited on the response from our encounter with the radio announcer. Yes, the request to sing on his show was approved by his producer. Text messages hurriedly sent to loved ones to share the exciting news or to rearrange evening plans. All this as the buzz of a Biplane looped above our heads.
Where are we now? The Aldinga airfield is home to Adelaide Biplanes and flying instruction school. It's more than a strip of tarmac, hangers and windsocks. The beautifully tendered garden surrounds the family business. As well as a flying school and joy flights, a relaxing veranda, a welcoming cuppa and homemade kitchen delights are on hand. The stories and passion of the biplanes and the owners are infectious. We met 3 Biplanes: 'Marilyn Monroe', 'a Feisty French Tart' and a glorious original Tiger Moth. Our gift of a song for our hostess was an emotional touching moment for us all.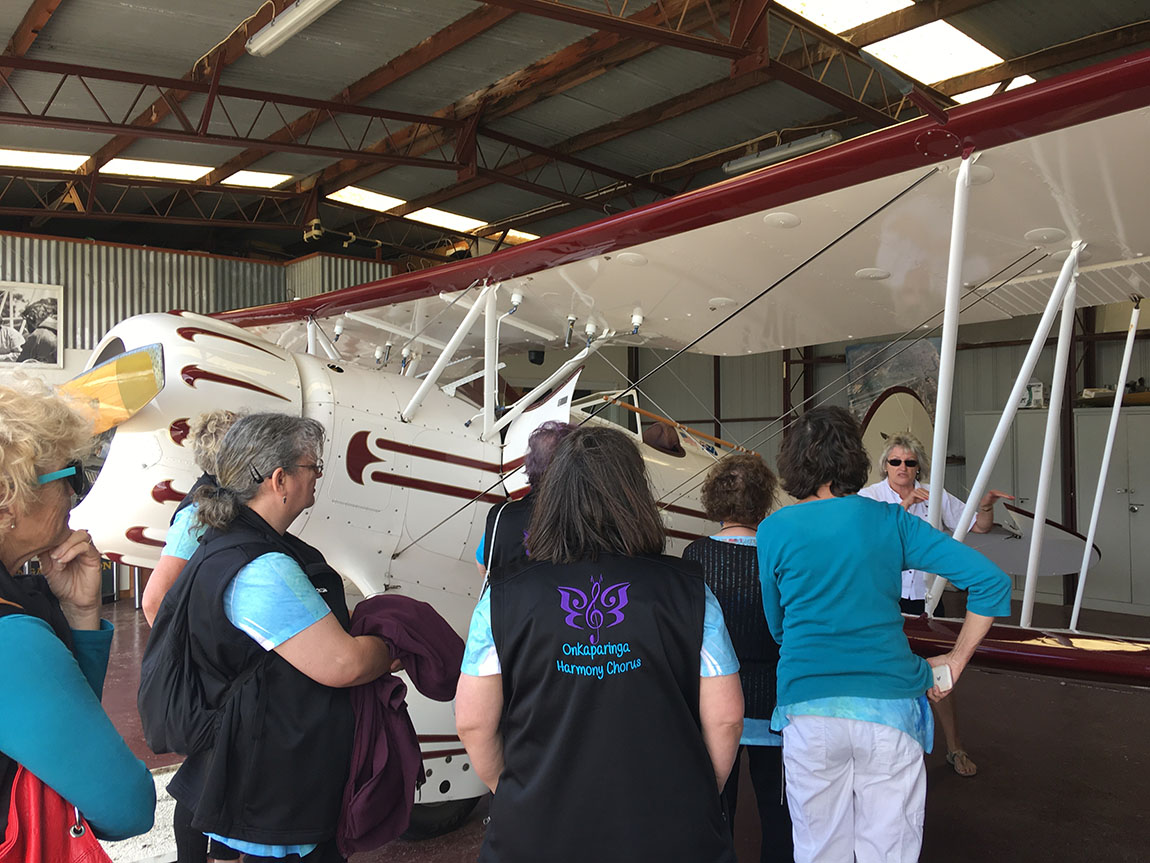 The day was unfolding with one more planned stop to go. When in the Southern Vales, one must visit a winery. And a welcoming one we found in Molly Dooker Wines. Sumptuous lunch platters with cheese, meet and crackers a plenty. Enough to share amongst us all. And who could say no to a taste of their recently bottled vintage.
A couple of songs as we bid our farewell to the wonderful cellar staff and those who were just sampling a drop or two.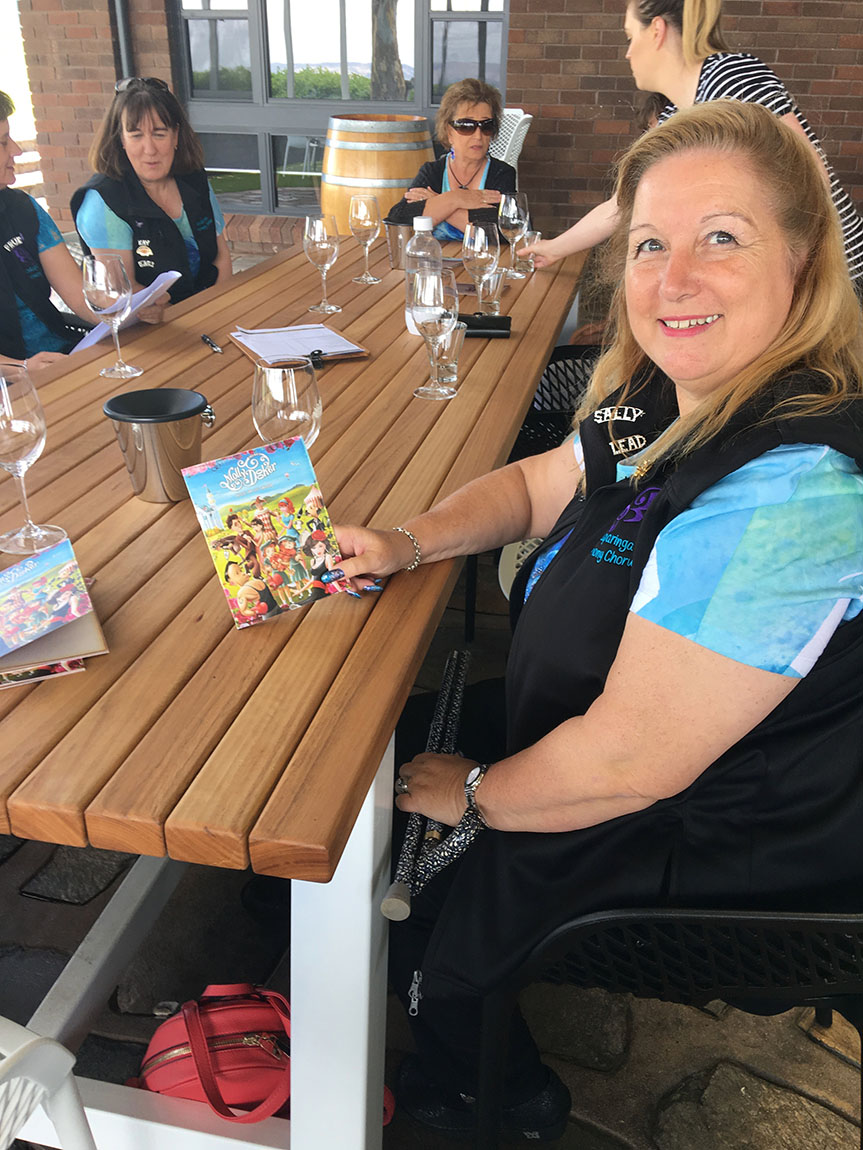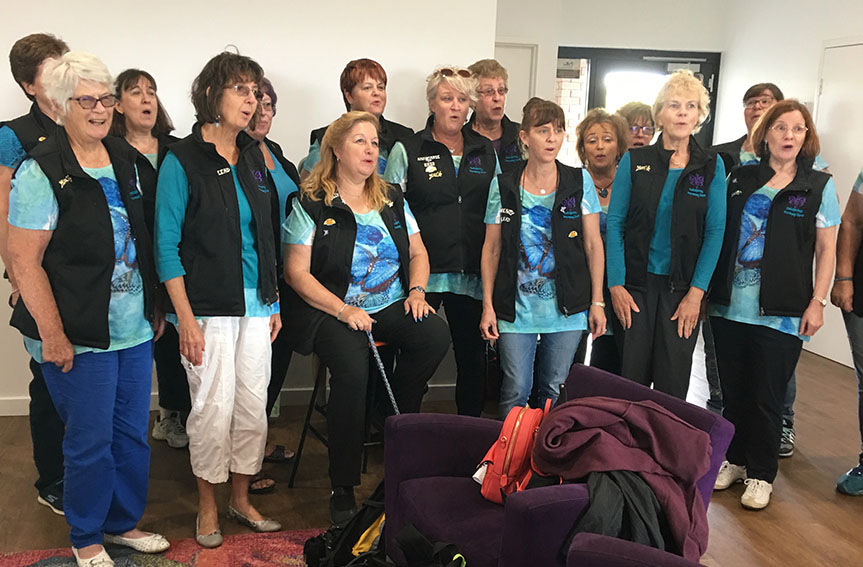 And as with all good performances, and encore of sorts was requested. For us it was a quick visit to the Fruchocs outlet to stock up on more SA treats. A bold request from a young beau lead to an impromptu song on the sidewalk for his lady who was celebrating her birthday.

And as for that radio announcer's request? 15 singers filled his studio that evening and shared our story, an invitation to join us and three songs to entertain the listeners. All and all – a day that exceed everyone's expectations.